Data Free Betting shows how many online bookmakers in South Africa are setting themselves apart. What this means as a punter is that you can bet even when you don't have any balance on your phone company account. One of these betting sites is Supabets, which offers data-free betting on Pre-match and Live Sports, so you don't have to worry about your network traffic running out.
We have prepared everything you need to know regarding this feature on Supabets: how to register with the betting company and download the application to wager on sports without spending a cent on data!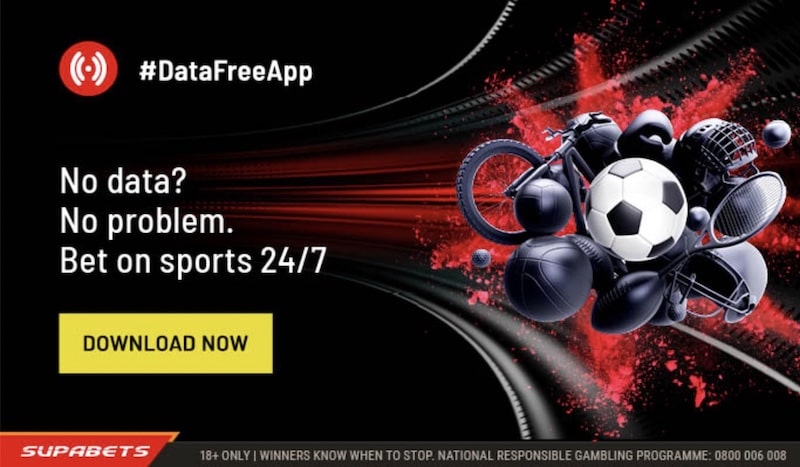 What can you use the Supabets Data Free app for?
You can bet on many things on Supabets without using any mobile data! On Data Free App you can find:
Prematch and Live Sports Betting
Jika Sports Virtual Games
Lucky Numbers draws
Mo-China (FAFI) draws
Although there is already a nice set of betting opportunities, please note that the Supabets Instant Games section, BetGames (Lucky 5/6/7) products, and live casino games such as keno and roulette are still yet to be added to data free version.
Claim your welcome bonus on Supabets!
Registering on the Supabets site and making your first deposit will give you a 100% bonus match on your initial top-up amount. That means depositing R100 will get an extra R100 bonus and an overall R200 on your balance.
Remember that you need to wager the 4x of the deposit and bonus amount at odds of 2.40 (14/10) or higher before you can withdraw it. The bonus funds will expire if you don't complete the rollover requirements within 15 days.
How to Download and Install Supabets Mobile Application?
Step 1: Sign Up on Supabets
If you are ready to start betting without using mobile network traffic, you only need an active account at Supabets. If you already have one, skip ahead to Step 2 and if you don't have an account, you can register by following the link below.
The sign-up process is nice and easy:
Register by picking a unique username.
Then enter your phone number, email, first name, last name, ID type and number.
Create a password and finish your registration.
Now you have opened your Supabets account!
The final step is to FICA your account, so it is fully verified, it's pretty easy, all you need to do is upload a set of documents to prove your identity (ID and proof of residence) – you can follow the instructions on the website when you are done signing up. This also allows you to claim the welcome bonus and withdraw funds anytime.
Step 2: Download the Supabets Data free App
Download the suitable version for your mobile device by following the instructions below:
For Android devices
To download the Android version, you must first go to "Settings" on your device, then to "Device Administration", and enable the "Allow Unknown Sources" option.
Afterwards, follow the link below and tap "Data free Download" at the top of the page to start downloading.
Once completed, click Install, then log in for full access!
For iOS devices
Unfortunately, Supabets does not currently have a mobile app for iOS users. However, these users can still take advantage of the same features on their devices by accessing the mobile web version of the website.
Some cons of the app are worth mentioning
While the app boasts a myriad of features, there are some drawbacks to bear in mind. Notably, the inability to play slots or access products from BetGames. Although this isn't a significant setback, as Supabets is progressively expanding its functionality and betting options.
Additionally, the Supabets mobile app is missing in-app live-streaming of sports events, forcing users to leave the app to watch live events. However, customers can resort to the official website for uninterrupted live streams, thanks to rapidly advancing technology.
So, to sum it up, Supabets app definitely holds considerable potential. It just requires a few refinements to be competitive in the South African sports betting industry's top tier. Here's to hoping they can fill in the missing pieces in the near future.
Should I download the Supabets Free Data App?
Using an app isn't always needed to bet on your favourite sports. Even big names like Hollywoodbets don't offer a mobile app, but still deliver a great betting experience. One standout choice is the Supabets app, which lets you place bets without eating into your data – a big plus in today's world. So, it's certainly worth your time to check it out!
To expand your options, consider diving into our page reviewing top mobile bookmakers. It's a user-friendly guide that introduces you to top-notch betting apps out there. It helps you compare different platforms and choose the one that fits you best. So, why not take a tour and find your ideal betting app?
How to Secure Your Betting Journey on Android Devices
Placing wagers through your mobile device should be hassle-free and secure. Follow these suggestions to help protect your information and money when betting on the go:
Stay on top of app updates. Developers frequently patch security holes and bugs, so install new versions right away.
Lock it down with clever passwords. Use a mix of numbers, symbols, uppercase and lowercase letters to generate passwords that are tough to crack.
Confirm your identity. Complete all account verification steps to prove you're the legitimate account holder. This adds a key layer of security.
Only download from trustworthy sources like the Google Play Store. Stick to official app stores instead of sideloading to avoid malicious apps.
Turn on screen lock. Set up a PIN, pattern, or fingerprint to lock your phone when not in use. This prevents unwanted access.
Use trusted Wi-Fi networks. Public Wi-Fi can be risky, so use known secure connections when possible or VPN when necessary.
Monitor your account activity. Routinely check for any unauthorized transactions or changes to your account.
Contact support if you notice suspicious activity. If you detect anything strange, reach out to the betting provider right away.
Prioritizing safety measures ensures you can bet with confidence on your Android device. Let me know if you need any clarification or have additional questions!
Tips on Maintaining Data Free Usage
It is pivotal to ensure that while using the Supabets app, other apps or background data do not consume your data. Here are a few quick tips to maintain a data-free environment on your Android device:
Restrict background data for other apps: Navigate to "Settings" -> "Network & internet" -> "Data usage" -> "App data usage", select the apps and choose "Restrict data".
Use a data saver mode: This feature can be enabled from the settings menu. It helps in reducing overall data usage.
Keep track of data usage: Regularly check the data usage statistics in the settings to avoid any data loss.
Understanding the Limitations
While the Supabets Data Free App promises a seamless betting experience, it's worth noting some of its limitations:
Exclusivity to Android: The app is tailored for Android devices. So, if you're wondering "how to download the Supabets app on an iOS device?", currently, there isn't a dedicated app for iOS. However, the mobile web version remains accessible.
Limited Game Offerings: Despite its broad offerings, there are certain game sections and products from BetGames that are yet to be incorporated into the data free version.
Should You Get the Supabets Data Free App?
If you enjoy betting on the go, Supabets' data-free app is a game changer. With this app, you can place wagers without worrying about devouring your mobile data. For punters on a budget, it's a great way to extend your data plan while still enjoying Supabets' full range of betting options.
The app itself is well-designed and intuitive to use. Navigation is smooth, markets load quickly, and features like live betting and cash out are easily accessible. Whether using an older phone with limited storage or the latest model, the lightweight app won't slow you down.
New players can dive right in and learn the ropes of sports betting thanks to the app's beginner-friendly interface. And bettors with experience can enjoy quicker access to odds and lines to capitalize on in-game betting opportunities.
While the app does lack some features only available on the full Supabets website, the tradeoff of zero data costs makes it an appealing choice for bettors looking to maximize their betting experience!
FAQ